Umbrian Adventure
This centre-based riding week offers a varied programme of half-day and full-day treks in the glorious Umbrian countryside. Suitable for all levels. Novices and experienced riders will be split into groups for the faster rides.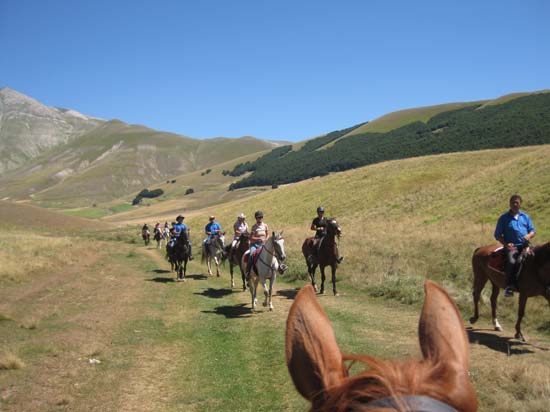 Saturday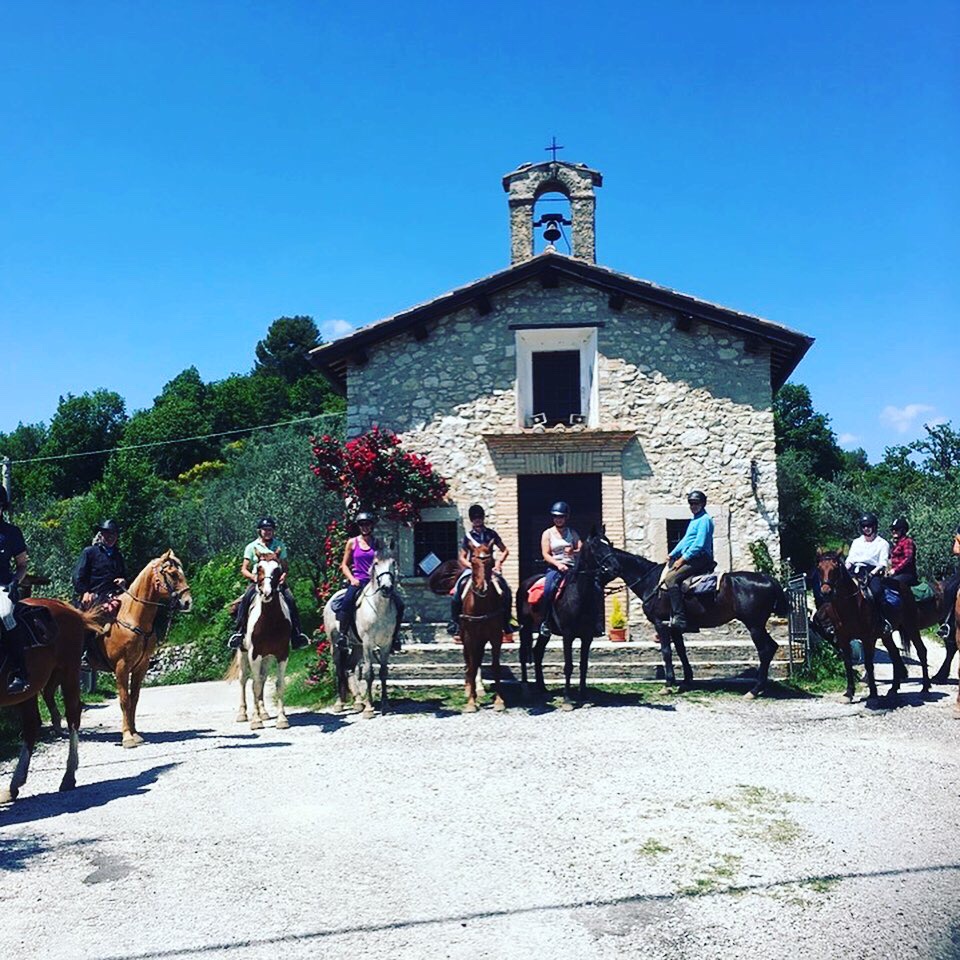 Arrive at Spoleto train station and 20-minute transfer to stables, where you can settle in and wander round to meet the horses. Dinner and overnight.


Sunday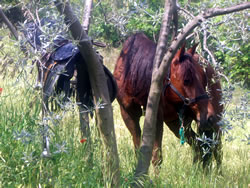 We start off in a fairly leisurely way on the first day, to give riders the chance to get to know their horses. This three-hour ride takes us through the chestnut groves of Valle San Martino, which sweeps down from the plateau which is home to the stables. You'll have time to admire the magnificent gnarled old trees which have supplied chestnuts to generations of people living in this area, and to spot the wild cyclamen and other flowers that grow in the woods. There are several stretches of trail that are perfect for a good canter, for those who are able, before we clatter through the picturesque village of Strettura. On the way back, we pass by the church of San Pietro Martire, a tiny chapel in the middle of nowhere, still used to this day by some of the outlying villages. Lunch will be served in the clubhouse back at the stables.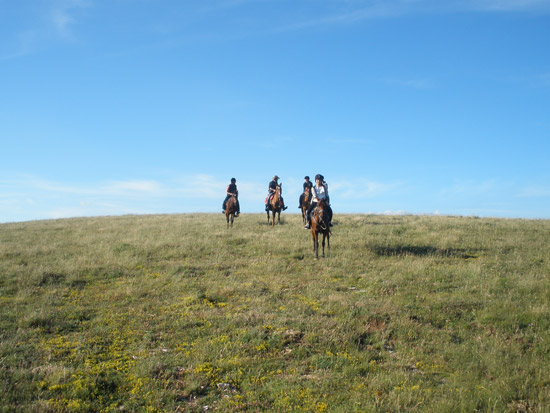 Monday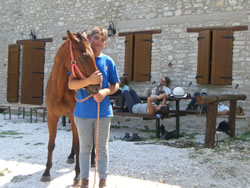 Today the serious riding begins, but it will be fun too, and very varied during the 35 kms and 5-6 hours that riders will spend in the saddle. Winding through woodland trails we come to the hamlet of Torrecolla before passing a delightful stone church and heading along some wider paths. Then it's time to begin the long but gentle climb up to Monte Fionchi, a huge alpine meadow at the top of a 1300 metre high mountain, where riders can refresh themselves with a drink from an ice-cold mountain spring. A leisurely picnic lunch will be served in a meadow close to another lovely Umbrian country church, the Chiesa di Sant'Antonio. The return leg takes us through the wild and staggeringly beautiful Valnerina, past abandoned villages stuck to the side of the mountain, through other inhabited hill villages and back to the stables.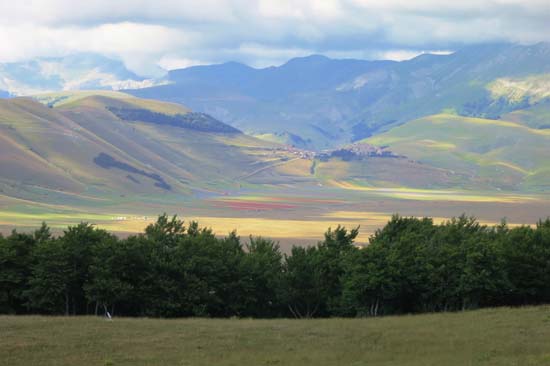 Tuesday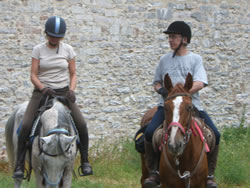 Today's ride is less challenging in terms of time and terrain, but faster for the more experienced riders, with some spectacular scenery as a bonus. From the stables, we pass through chestnut woods to Montebibico, a medieval village where time seems to have stood still. From there, a series of trails winds gently past small farms and up into the foothills of Mount Acetella, today's destination. There are plenty of chances to canter along these paths, but don't forget to stop and take stock of the magnificent views here. You can see high mountain peaks in the distance, with the stables and Montebibico nestling in the foreground - a great place for a photograph. Afterwards, we head up to the top of Mount Acetella itself, just a short climb, where you will be rewarded with more stunning views here on top of the world. We head back to the stables via another series of trails for lunch.

Wednesday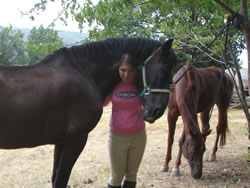 Pianella, the destination for this day-long trek of 5-6 hours (35 kms), is a gloriously peaceful spot in the heart of the Umbrian countryside. To get there, we ride through woods and trails and down into a hidden valley where we pause to admire the exquisite little village of Castagnacupa, whose old stone houses have all been recently restored. From here we ride past a beautiful Romanesque church and into more woodland before reaching the shady meadow where we will have lunch, tying the horses to a post and rails and sitting on wooden tables and benches thoughtfully provided for picnickers. After lunch we head on through the old village of Pompagnano, close to Spoleto, and back over the hills via Catinelli, a village poised spectacularly on a rock outcrop and home to just two people, an old man and a woman who can often be seen tending to their animals.
Thursday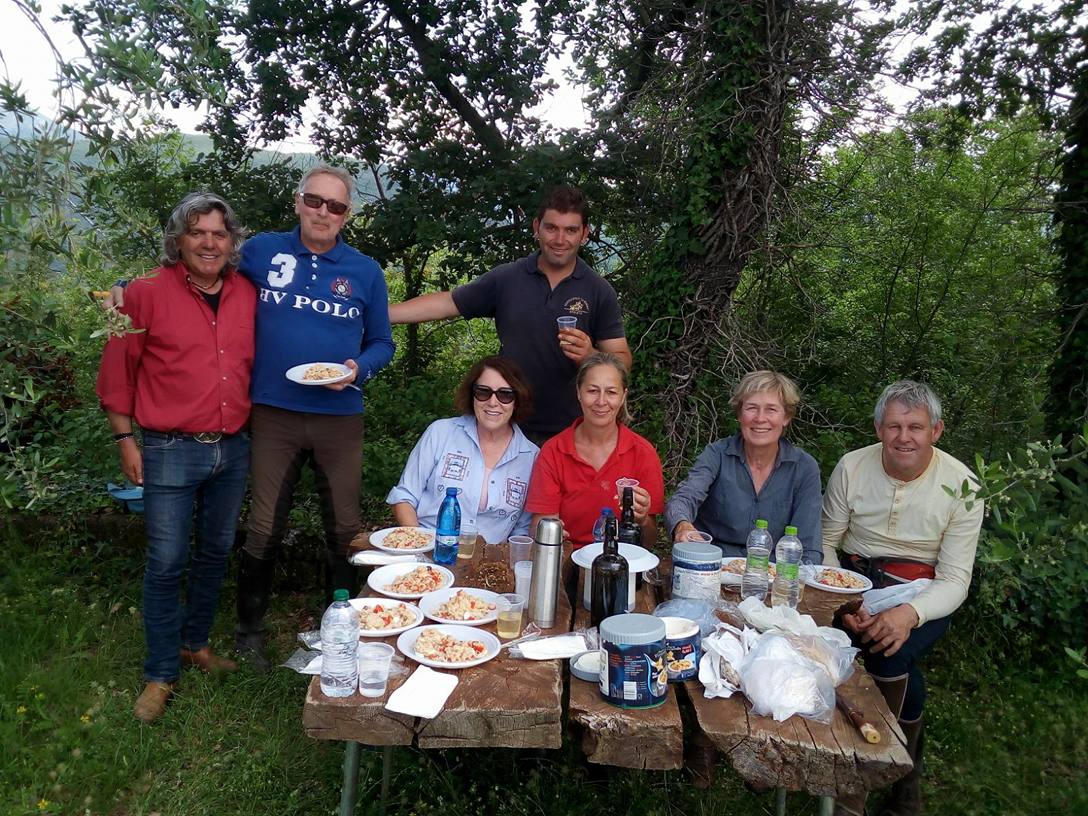 This half-day ride takes us through the grounds of a magnificent 600-hectare private estate called La Tenuta dello Schioppo, but known locally as Il Parco delle Farfalle, the Butterfly Park. There are wide avenues perfect for cantering for those who want to, and trotting for those who don't, and splendid views of mountains, valleys and hill villages in all directions. In a woodland glade a huntsman's table has been fashioned out of local chestnut wood, and this will be the stopping place for an aperitif. In May and June, these woods are carpeted with tiny wild strawberries. We ride back for lunch at the clubhouse with a free afternoon to relax or go exploring in nearby Spoleto (transport can be provided at reasonable cost).

Friday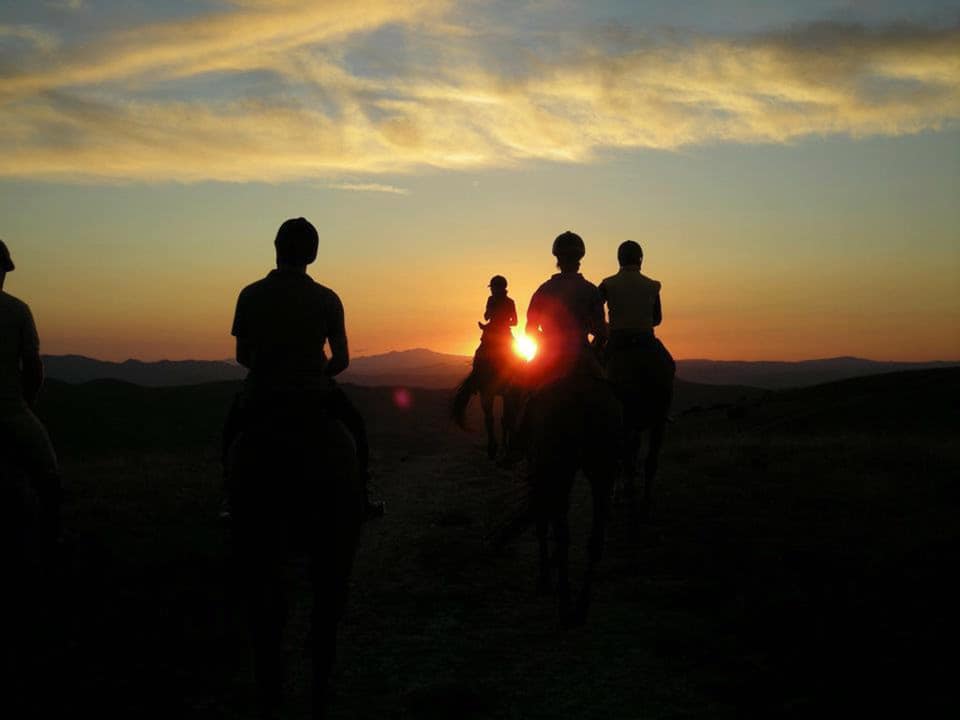 Today's final day-long ride is a pilgrimage to the now uninhabited Monastery of Battiferro and will involve around 5 hours in the saddle, covering about 35 kms. Leaving the stables, we pass Montebibico, carry on through tracks and mule paths until we reach the mountain village of Ciecalocco, and on again through ancient chestnut woods until we arrive at the village of Battiferro, still inhabited in spite of its remote location. A trail through the woods leads to the monastery itself, set on a promontory with magnificent views over the Valnerina. Here we will stop for a well-earned picnic lunch, before returning to the stables via a different route and later meeting in the clubhouse for a drink and farewell dinner.
Saturday
After breakfast transfer back to Spoleto train station.
Please note: This is a sample itinerary and treks may be altered as a result of local conditions especially weather.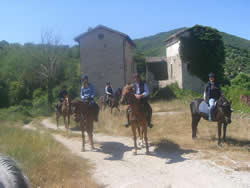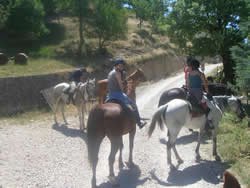 In warmer months, and in times of a full (or nearly full) moon, it may be possible to replace a full day ride with a memorable Night Ride up onto the mountain of Monte Acetella. Riders are met by the stables' jeep, and served a camp-fire supper as they scan the skies for shooting stars. The return leg of the journey takes place by the light of the moon.
New feature: Optional rafting excursion available on all riding holidays instead of a half-day ride.
Supplement €50 payable locally. We will provide free transport.
The descent takes approx 2 hours on the beautiful River Corno and the whole excursion approx 4 hours. Each boat is manned by expert guides and this activity is suitable for all ages, from 5 to 75, as it is safe and relatively gentle rafting (though exciting enough to feel you have done something adventurous!) Wet suits, lifejackets and crash helmets provided.