Panoramas and a pool – trail ride to Macerino
April 22-29, 2017
Day 1
Arrive at La Somma and overnight
Day 2
Half-day ride into the hills and lunch in the clubhouse
Lesson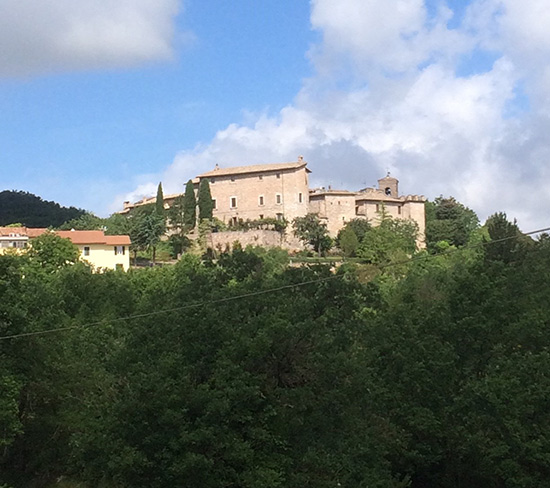 Day 3
Today we set out for the picturesque village of Macerino, which can be seen in the distance, nestling in the woods on the side of the mountain. We ride up along trails onto Mt. Citella and down over the other side into the pretty village of Castagnacupa. From here we ride to our picnic spot, the grounds of a beautiful monastery, Madonna del Panico, where the horses can graze while we have lunch at a nearby table. Afterwards, we ride along paths through meadows, woods and small hamlets, until we come to Macerino, a recently restored stone-built village that dates from the 11th century, and the setting for films including one starring Sofia Loren. Time has stood still here and most people still make a living from tending their crops and animals. After settling the horses in, we check in to the Casa Vacanza Arcus, a family-run agritourism built into one the four towers that crown this ancient village. Your luggage will be waiting in what will be home for the next 2 nights. There will be plenty of time to relax in the swimming pool before a shower and dinner, with home-cooked food and good local wine.
Day 4
Today we ride to the area of Torre Maggiore, a spectacular mountain with 360 degree views. We head back for lunch at the agritourism, turn the horses out and spend the afternoon in the pool, before dinner and overnight.
In the afternoon there may be an optional visit (supplementary charge for transport and entrance) to the beautiful ancient Roman settlement of Carsulae. Dating from 300 BC, this once thriving Roman municipality had a large complex of thermal baths, theatres, temples and other public amenities, attracting wealthy and middle class tourists from Rome. Today it is a peaceful well-preserved site, with no crowds, and the runnels of the chariots can still be seen on the ancient Flaminia Road, the consular road that linked Rome to the Adriatic coast.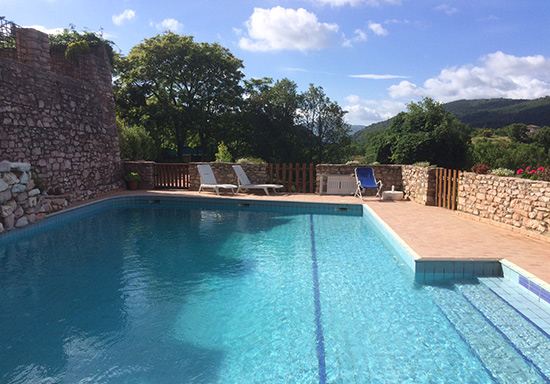 Day 5
After breakfast, and leaving bags to be taken by jeep back to La Somma, we saddle up for the ride home by a different route. The first village we come to is Giuncano, down on the valley floor. From there, we gradually climb up along winding paths and over the crest of the mountain where we can see La Somma beckoning in the distance. Our picnic lunch, provided by the agritourism and carried in our saddle bags, will be eaten at a rustic table with extraordinary views. There will be time to rest horses and riders before starting the final leg of our journey, which takes about 2 hours. Dinner and overnight at La Somma.
Day 6
Lesson followed by lunch in the clubhouse and a half-day ride up on to the hills around La Somma.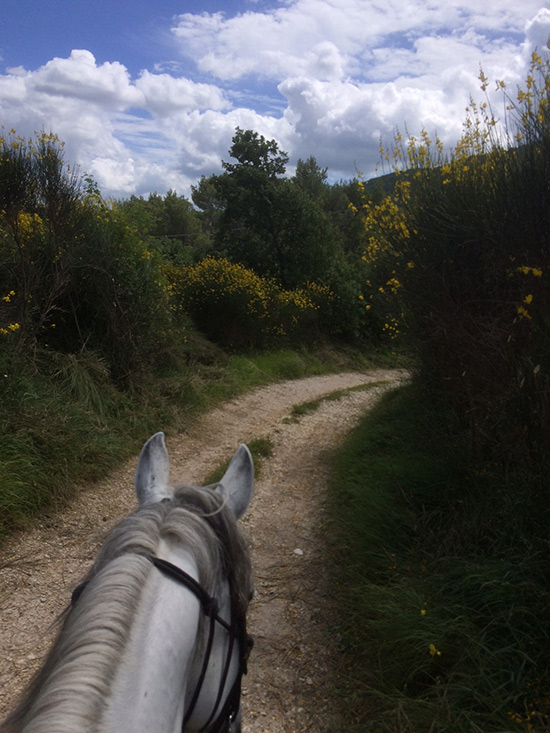 Day 7
Full-day ride with picnic lunch
Final dinner and overnight.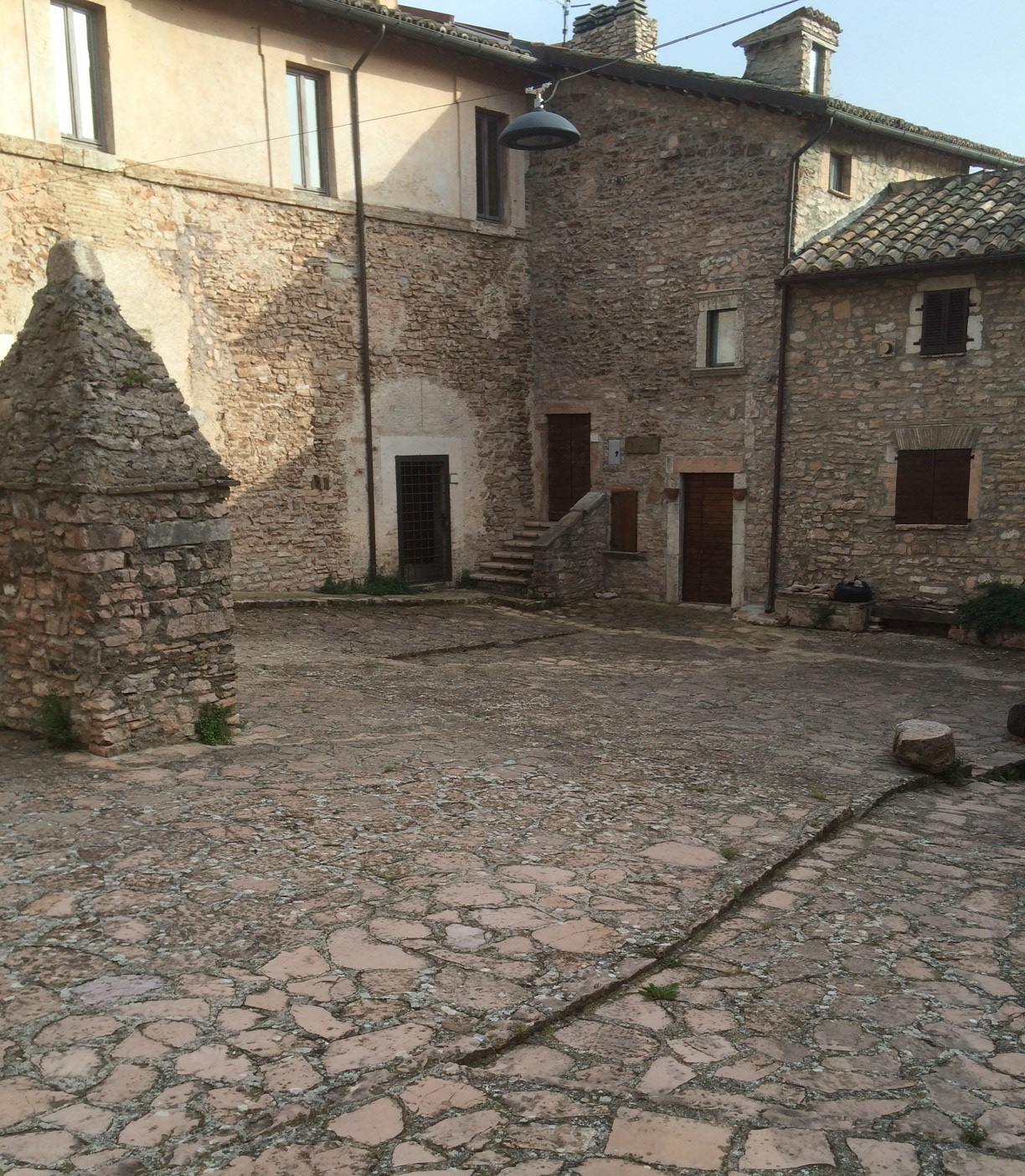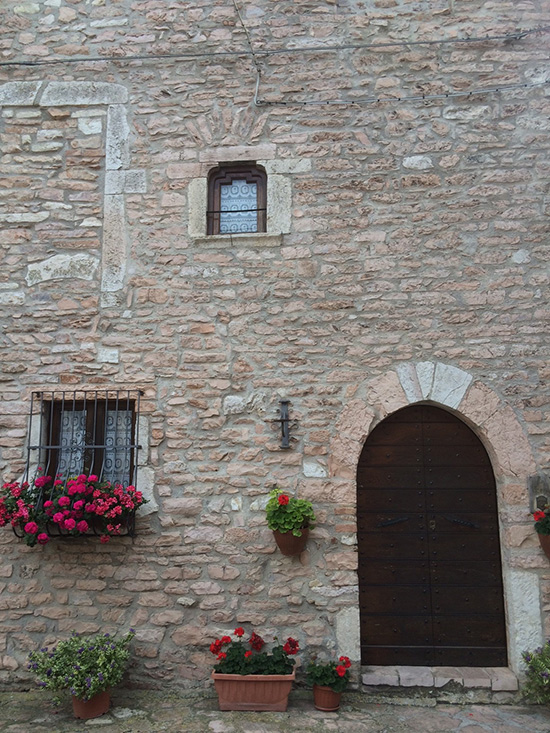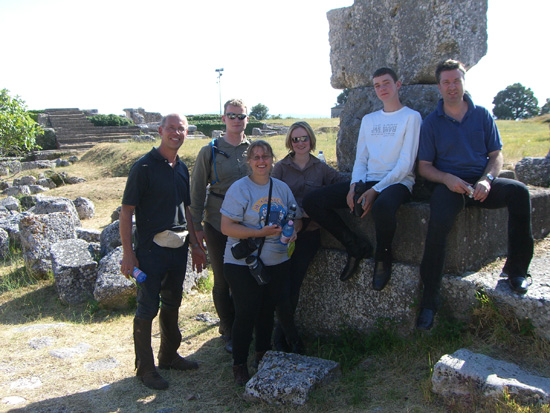 ---
VALNERINA AND ANCIENT MOUNTAIN RAILWAY TRAIL RIDE
May 20-27, 2017,
September 16-23, 2017
Saturday
Arrive at La Somma, dinner and overnight
Sunday
Morning half-day ride followed by lunch in clubhouse
Afternoon: Lesson in manege or free afternoon to go to Spoleto etc.
Monday
Today we leave on the first leg of the trail ride. We ride along wide paths, with opportunities for several canters along the old Flaminian Way, before turning off and heading down through a series of picturesque villages such as Ancaiano and Belvedere, through woods and another tiny hamlet and into the beautiful village of Ferentillo, with its ancient twin towers to guard against marauding armies and bandits. Ferentillo spans the fast-flowing Nera river that gives this stunningly beautiful valley its name – the Valnerina. We cross over the bridge to the other side of the village, called Precetto, and have a picnic lunch by the river. Afterwards, we ride along the riverbank, following the course of the Nera and passing through several villages, with canters along the way. There is also a chance to stop for a beer before we come to Scheggino, a pretty little town on the river's edge that is famous for the trout that swim right through the town centre. We carry on our ride along gentle paths until we reach Sant'Anatolia di Narco, and the former Benedictine monastery, now hotel, that will be our home for the next 2 nights. The horses will be let out to graze nearby, fed and settled for the night while we take shower s, have dinner and overnight. Our bags will have been delivered by car in the meantime.
Tuesday
After breakfast we leave for a half-day ride on trails around the scenic area before heading back to the hotel for lunch. Afterwards, we will be taken by car to Norcia, to explore this historic town famed for being the birthplace of St. Benedict, but also for its black truffles and excellent cheese, prosciutto and wild board salame, which you can find in most stores. Time for an aperitivo in Norcia, or perhaps the very pretty hilltop town of Borgo Cerreto before heading back to the hotel for dinner.
Wednesday
Today, after breakfast, we saddle up and ride along part of the historic Spoleto-Norcia mountain railway, which has recently been converted into a spectacular trail for walkers and horse riders, passing through some of the ancient tunnels, and with dramatic views at every turn. This was the railway line that linked the two valleys of Spoleto and the Valnerina, before it fell into disuse. We pass a number of picturesque old railway stations and through the beautifully restored village of Tassinare and another one called Forca di Cerro, which is the highest point that the old trains had to climb before heading down to Spoleto. Here, we leave the old railway line and wind our way down towards the pretty little town of Poreta in the Spoleto valley. We will be having dinner and sleeping at a hotel converted from the Castello di Poreta (Castle of Poreta), dramatically poised atop the town itself, and the horses will be settled in nearby.
Thursday
Poreta is famous for its olive oil production and after breakfast we ride along gentle trails flanked by olive trees on either side. This is also where St Francis and his followers used to pass, and we ride along trails with several canters along the way before stopping in an olive grove for a picnic lunch. In the afternoon, we ride along more wide trails before meeting up with the horsebox and cars, which will take riders and horses back to La Somma for dinner and overnight.
Friday
After breakfast, half-day ride followed by lunch in clubhouse.
Afternoon: Lesson in manege or free afternoon.
Saturday
Breakfast and depart
Please ask about prices and discounts.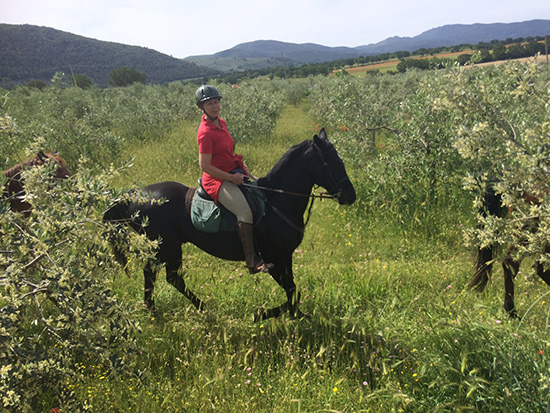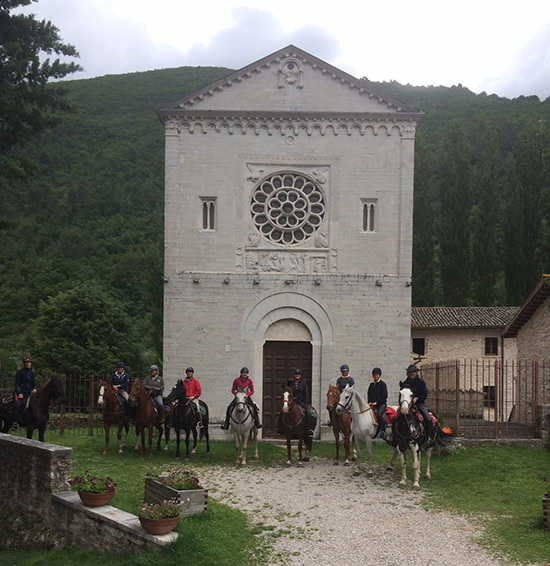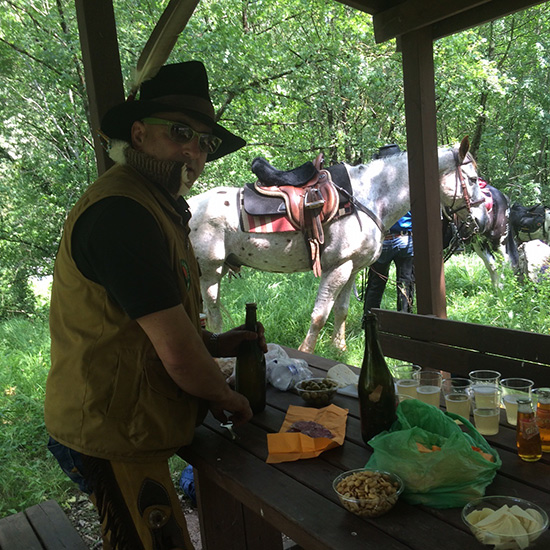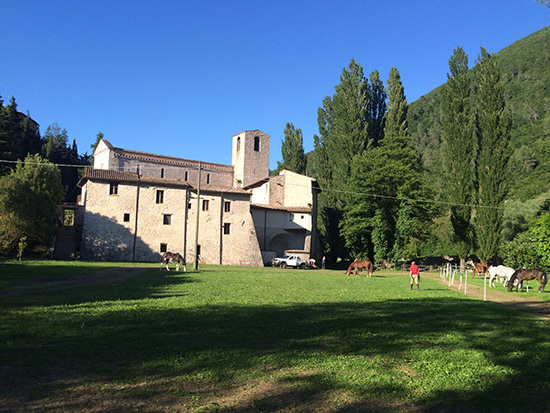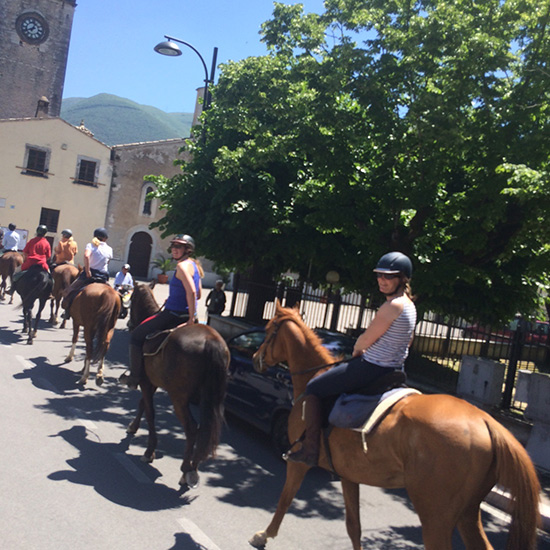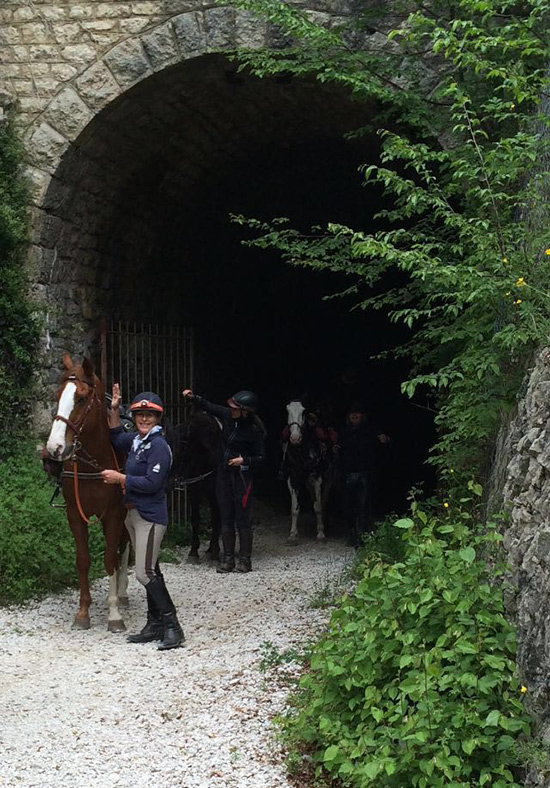 ---
THE FLOWERS OF CASTELLUCCIO
July 1, 2017
July is when wild flowers carpet the plateau of Castelluccio di Norcia, an amazing mountain plateau suspended at the head of the spectacular Valnerina Valley. A day ride will be devoted to riding in this breathtaking environment.