LA SOMMA TRAIL RIDE
ON THE TRAIL OF A ROMAN CHARIOT – A RIDE TO MONTELEONE DI SPOLETO
This trail ride offers the chance to sample some local history and beautiful scenery in this lovely corner of unspoilt southern Umbria. Guests can either do just the trail ride, which is 4 days riding/3 nights away and 2 nights at La Somma (before and after the trail ride). Or they can do the whole week, w
ith the remaining 2 days riding at base (trekking and/or lessons as required).
Sunday
This trail ride takes us to the very pretty little medieval hill town of Monteleone di Spoleto, which is tucked away in the hills of the wild and spectacular Valnerina valley. We start the ride by meeting up with the horses, which will have been trucked to the village of Precetto. Perched on the other side of the bubbling River Nera from its twin village of Ferentillo, Precetto is a place where little has changed over the years, and both villages are guarded by ancient towers against marauding invaders. From here, we ride along a track that gradually winds up into the hills, passing the old customs point between the papal states and the Kingdom of Two Sicilies, where the papal symbol of St Peter's Keys can still be seen. This area is still known locally as the Salto del Cieco (Blindman's Leap), after a band of brigands whose leader pretended to be a blind beggar, before robbing passing travellers and hurling them to their deaths. We'll stop for a picnic lunch near here, with wine of course, and carry on over the crest of the hill where Monteleone di Spoleto beckons in the distance. After riding along winding trails, with amazing view in every direction, we'll stop at the very comfortable agritourism just outside Monteleone di Spoleto, which will be home for us and our horses for the next 2 nights. Dinner and overnight.
Monday
Today, after breakfast based on local products, we ride on mainly level terrain along gentle paths around Monteleone di Spoleto. Some 100 years ago, a Roman chariot was found by a local peasant farmer in his field, who unwittingly sold it to a trader for a very small sum. The chariot is now in New York, and the object of a very bitter struggle, though you can admire the replica in the town itself. Picnic lunch before continuing the ride around Monteleone, with plenty of canters for those who want to. Dinner and overnight.
Tuesday
Today, we leave Monteleone di Spoleto and ride down a different trail, passing through the dramatically poised hill villages of Gavelli and Caso, where we will stop for lunch. From there, we ride towards Scheggino, a pretty little town on the river's edge that is famous for the trout that swim right through the town centre. We carry on our ride along gentle paths until we reach Sant'Anatolia di Narco, and the former Benedictine monastery, now hotel, that will be our home for this night. The horses will be let out to graze nearby, fed and settled
while we take showers, have dinner and overnight. Our bags will have been delivered by car in the meantime.
Wednesday
After breakfast, we saddle up and ride along the banks of the beautiful River Nera, passing an ancient abbey and a number of villages. There will be a chance for some trotting and cantering, before we enter the village of Ferentillo, where the horse box and cars will be waiting to take us all back to base.
For photos of Monteleone di Spoleto, see: https://www.google.com/search?q=monteleone+di+spoleto&rlz=1C1ASUM_itIT573IT574&espv=2&biw=1280&bih=845&tbm=isch&tbo=u&source=univ&sa=X&ved=0ahUKEwj-oqWo1NjQAhWBAsAKHV6wCRAQsAQIPg&dpr=1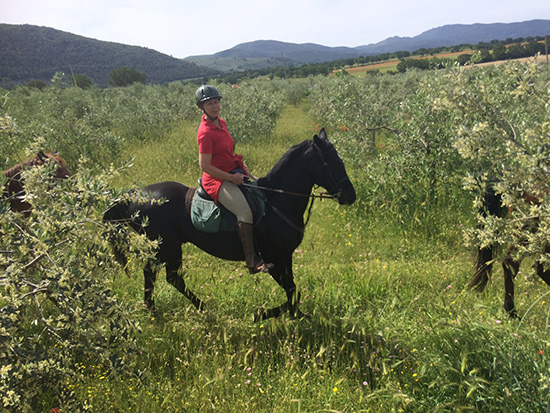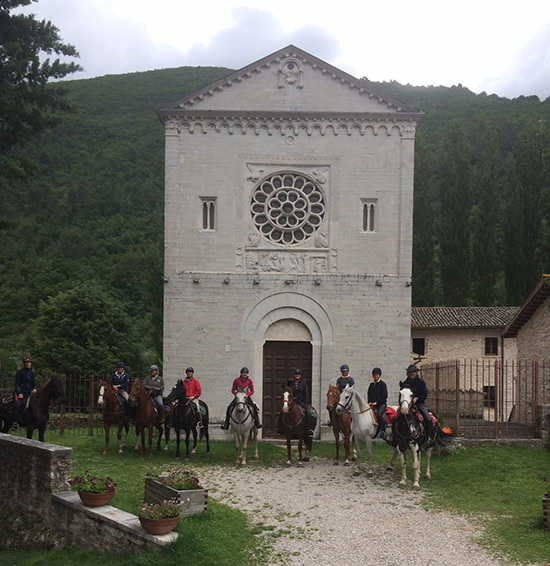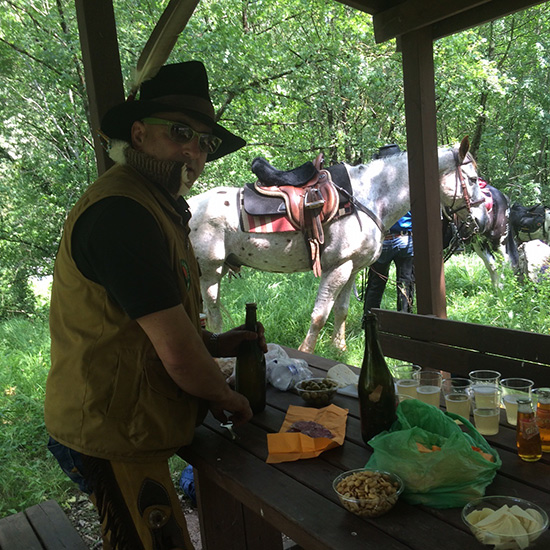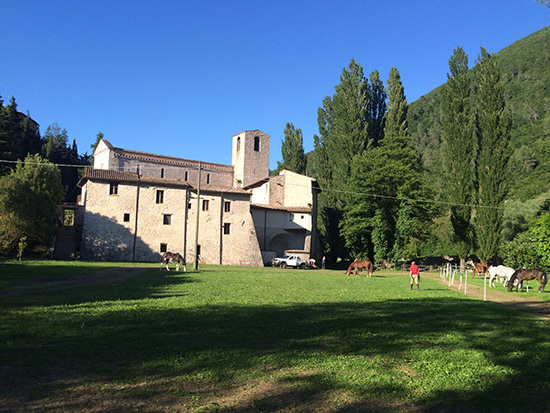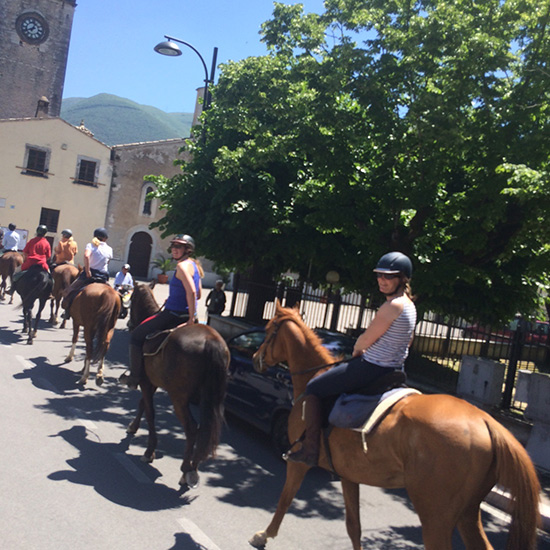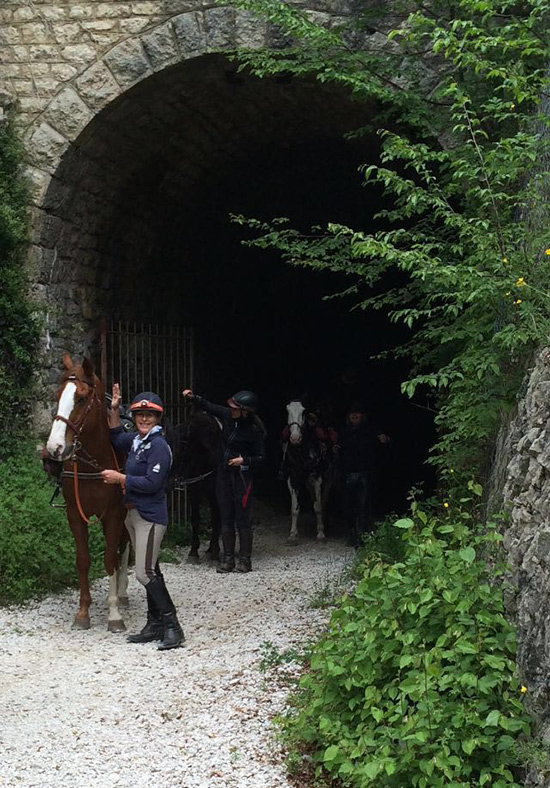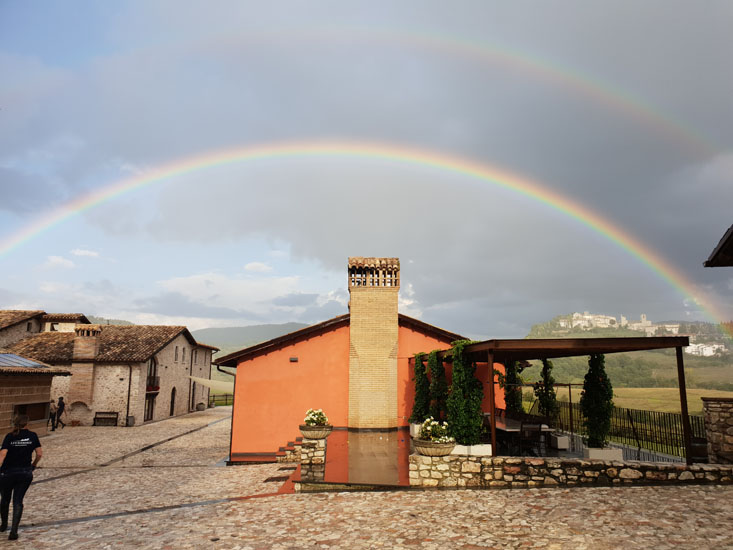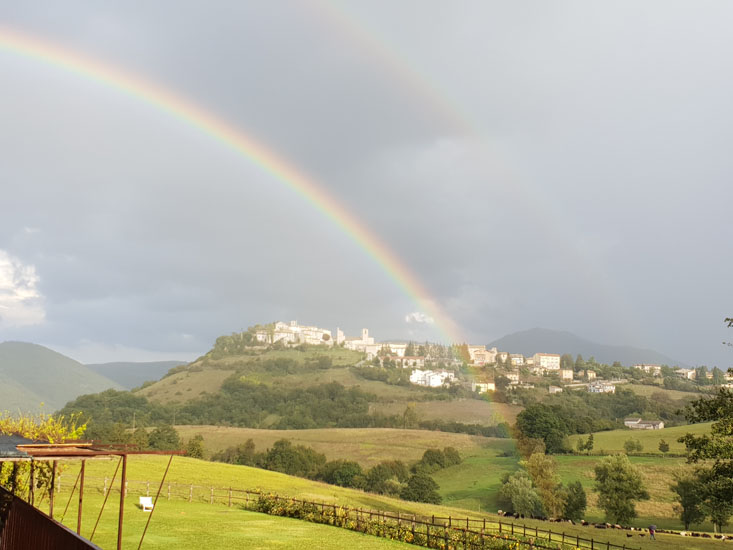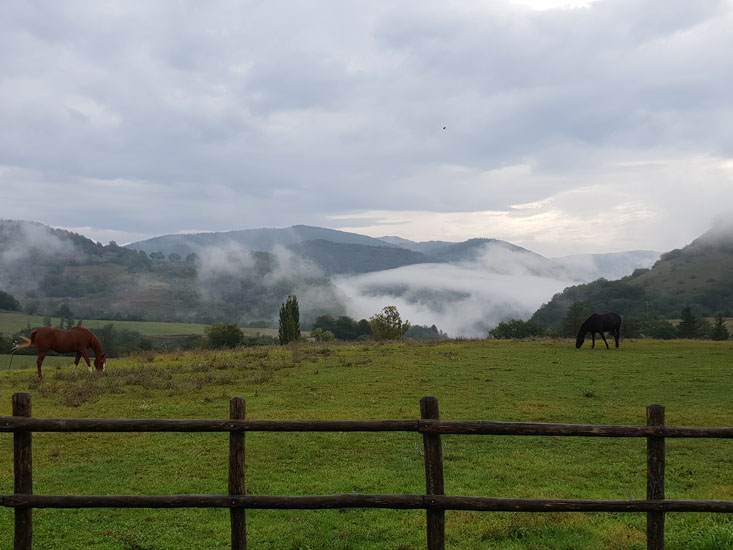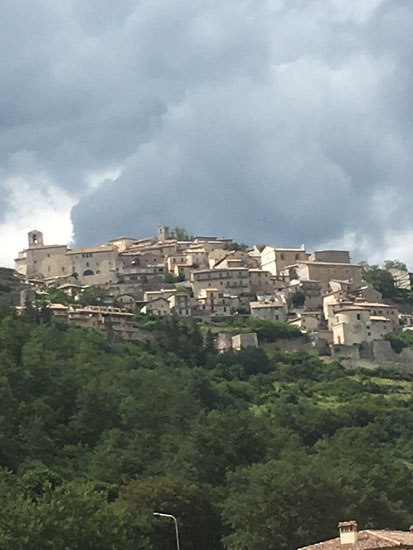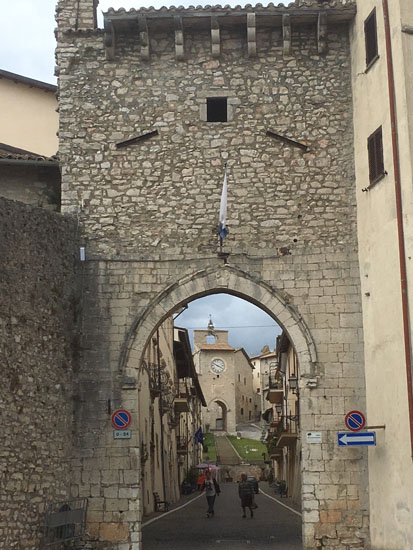 ---
RIDING AND WINE TASTING
Spreading out as far as the eye can see around the lovely little hilltown town of Montefalco, known as the Balcony of Umbria for the views it commands, are more than 2,000 acres of vineyards. This very special trail ride offers an opportunity to ride through the rolling hills of an ancient landscape, and to taste some of the wines that are rapidly making a name for themselves in international circles.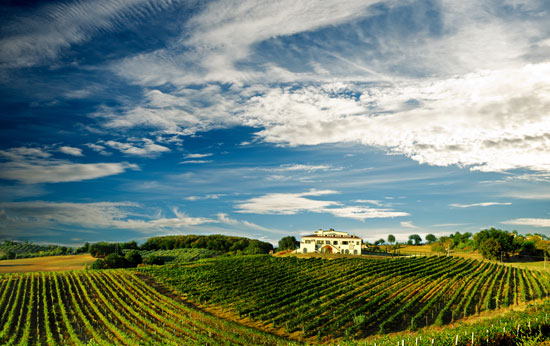 This programme can be enjoyed in two versions: just the trail ride, which is 3 days riding/2 nights away and 2 nights at La Somma (before and after the trail ride). Or as part of a whole week's riding holiday, with the remaining 3 days riding spent at La Somma (trekking and/or lessons as required). The starting point of this trail ride will be the Fonti del Clitunno, a peaceful spot with a lake and small island mentioned by Virgil and Byron among others. This is a short drive away for riders and horses. The itinerary over the next 3 days will take in a stop at two well established wineries, with a short tour to see how the wine is made, and of course an opportunity to taste the result!
The programme is the following, though the order may vary slightly, depending on the weather and other factors.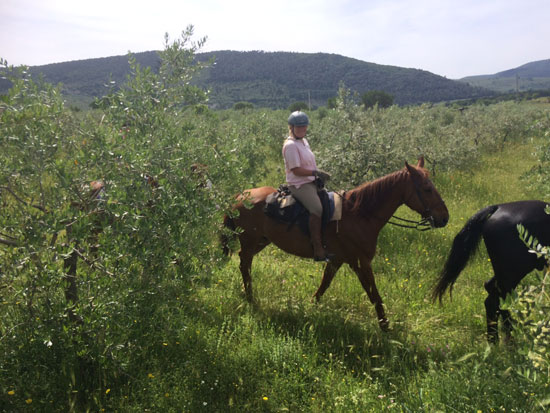 Sunday
After breakfast, the horses are loaded into the horse box and riders are transported by car on the scenic 30-minute trip to Fonti del Clitunno We tack up quickly and begin our ride along wide paths through olive groves and vineyards, with beautiful views whichever way you turn and opportunities for some trots and canters along the way. After a couple of hours in the saddle, it will be time for a welcome break, and we stop at our first winery – cantina in Italian – for a short tour and a tasting, perhaps starting with some bubbly spumante or a glass of locally produced white Grechetto or Trebbiano. Lunch will be served, based on local products, before we head off towards Montefalco, the wine-making centre of Umbria, with its medieval rampart walls and Romanesque churches. Our stopping place for the next 2 nights will be a comfortable agritourism outside Montefalco, where we will settle in the horses and pick up our bags which will have been delivered before. Dinner and overnight.
Monday
After breakfast, we saddle up and head towards Bevagna, which beckons across the hills in the distance. Originally an Etruscan settlement, this small stone-walled town subsequently became a Roman municipium, called Mevania and mentioned by Pliny, before being incorporated into the Duchy of Spoleto, and later, the papal states. Our next stop will be at a cantina that specialises in the rich red wines for which this area has become justly famous – Montefalco Rosso DOC e Montefalco Sagrantino DOCG – and there will be a chance to try them both, as well as to see how they are made and aged in oaken vats. This will also be the stopping place for lunch. From there, in mid-afternoon, we will ride along more gentle trails through vineyards and back to the agritourism, to untack and settle in the horses, before a shower and dinner.
Tuesday
Today we leave the wine-growing area and head towards another of southern Umbria's treasures – the beautiful mountains of Monti Martani, famous for their ancient fossils. Or route will take us through a number of picturesque villages, and there are some trails for trotting and cantering. We'll have a picnic lunch in a shady spot before loading the horses into the horsebox and being driven back to La Somma. Dinner and overnight.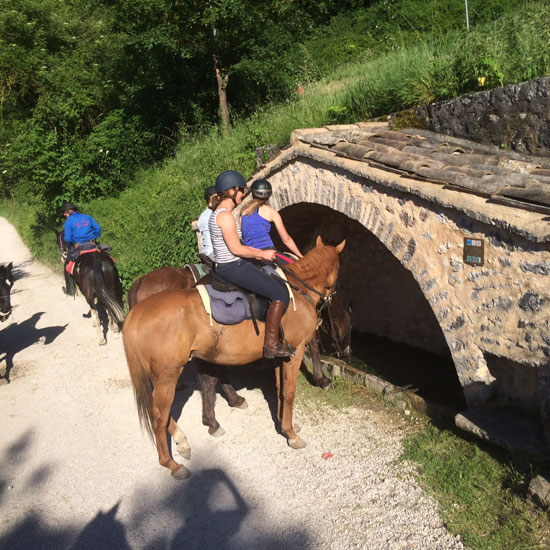 During this trip there will be an opportunity to visit Montefalco, with its many bars and shops, and its extremely pretty central piazza.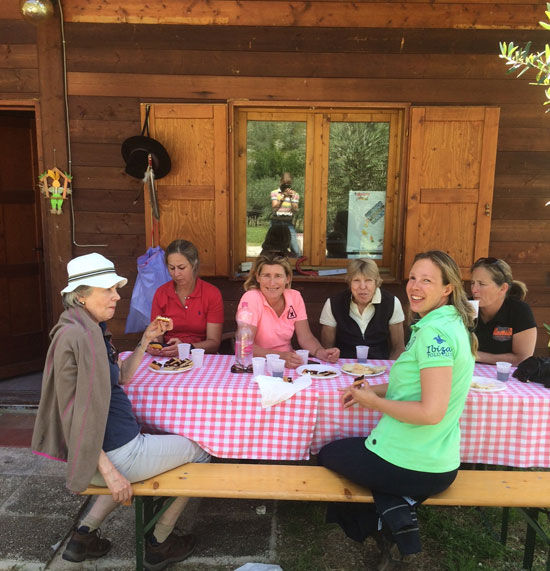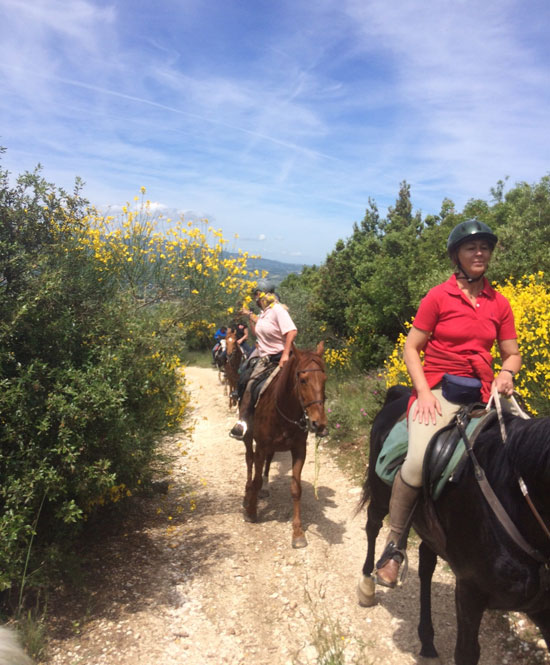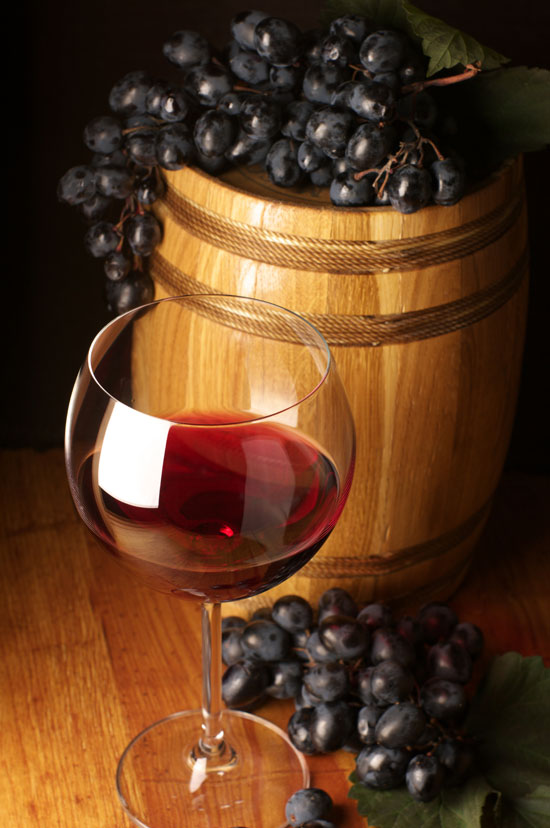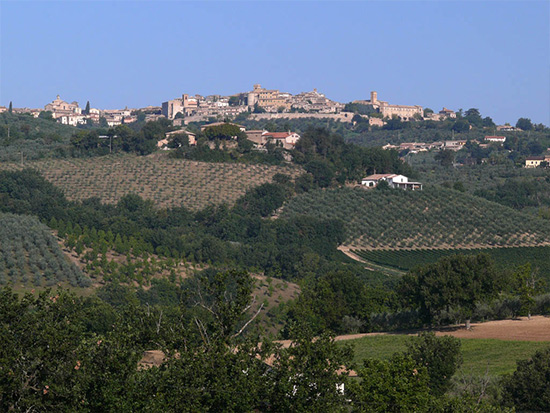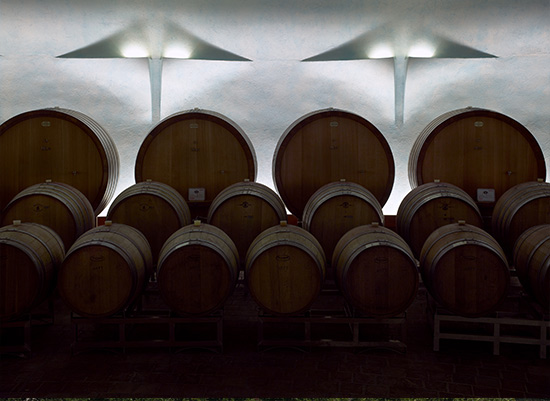 ---
Panoramas and a pool – trail ride to Macerino
Day 1
Arrive at La Somma and overnight
Day 2
Half-day ride into the hills and lunch in the clubhouse
Lesson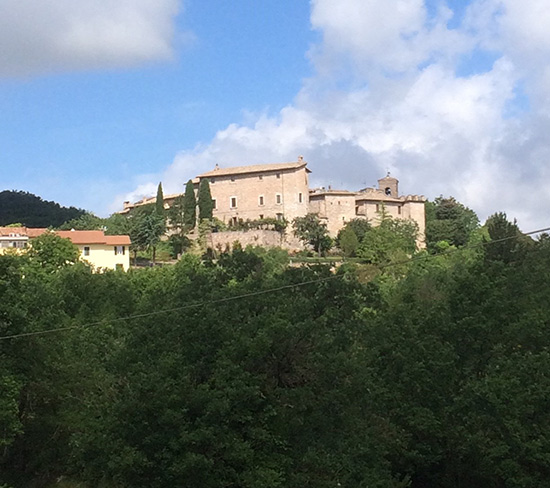 Day 3
Today we set out for the picturesque village of Macerino, which can be seen in the distance, nestling in the woods on the side of the mountain. We ride up along trails onto Mt. Citella and down over the other side into the pretty village of Castagnacupa. From here we ride to our picnic spot, the grounds of a beautiful monastery, Madonna del Panico, where the horses can graze while we have lunch at a nearby table. Afterwards, we ride along paths through meadows, woods and small hamlets, until we come to Macerino, a recently restored stone-built village that dates from the 11th century, and the setting for films including one starring Sofia Loren. Time has stood still here and most people still make a living from tending their crops and animals. After settling the horses in, we check in to the Casa Vacanza Arcus, a family-run agritourism built into one the four towers that crown this ancient village. Your luggage will be waiting in what will be home for the next 2 nights. There will be plenty of time to relax in the swimming pool before a shower and dinner, with home-cooked food and good local wine.
Day 4
Today we ride to the area of Torre Maggiore, a spectacular mountain with 360 degree views. We head back for lunch at the agritourism, turn the horses out and spend the afternoon in the pool, before dinner and overnight.
In the afternoon there may be an optional visit (supplementary charge for transport and entrance) to the beautiful ancient Roman settlement of Carsulae. Dating from 300 BC, this once thriving Roman municipality had a large complex of thermal baths, theatres, temples and other public amenities, attracting wealthy and middle class tourists from Rome. Today it is a peaceful well-preserved site, with no crowds, and the runnels of the chariots can still be seen on the ancient Flaminia Road, the consular road that linked Rome to the Adriatic coast.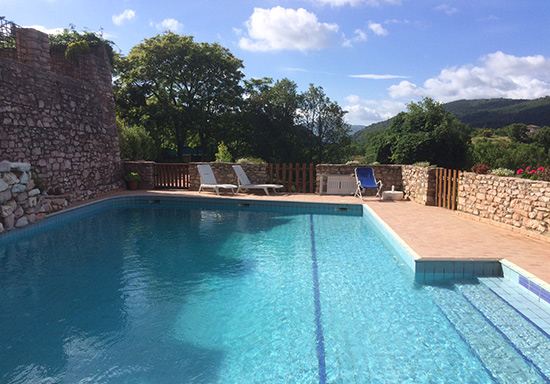 Day 5
After breakfast, and leaving bags to be taken by jeep back to La Somma, we saddle up for the ride home by a different route. The first village we come to is Giuncano, down on the valley floor. From there, we gradually climb up along winding paths and over the crest of the mountain where we can see La Somma beckoning in the distance. Our picnic lunch, provided by the agritourism and carried in our saddle bags, will be eaten at a rustic table with extraordinary views. There will be time to rest horses and riders before starting the final leg of our journey, which takes about 2 hours. Dinner and overnight at La Somma.
Day 6
Lesson followed by lunch in the clubhouse and a half-day ride up on to the hills around La Somma.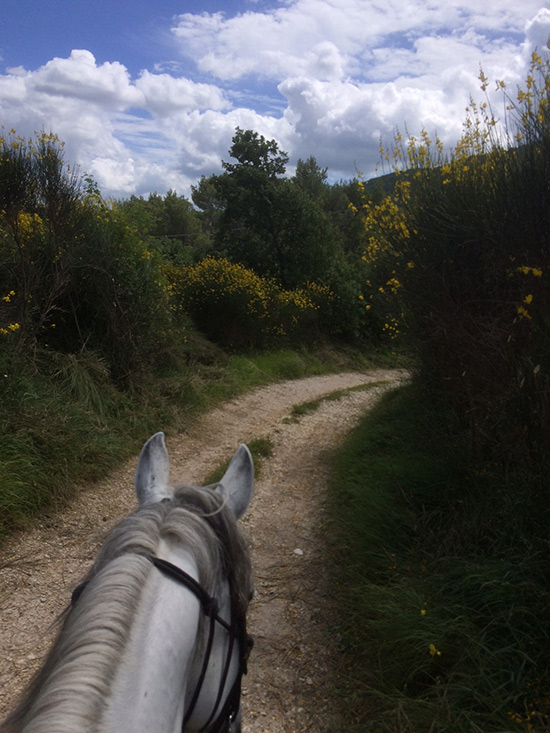 Day 7
Full-day ride with picnic lunch
Final dinner and overnight.