Short but sweet
They say that good things come in small packages, and this one has it all! We have put together a holiday which packs an extraordinary amount of riding, fun, thrills and spectacular scenery into just a few days. It includes a night's camping on top of a mountain – with a three-course dinner served at table – and a Night Right with a stop for a barbeque dinner on the way before getting back on the horses to ride home by moonlight. There is an afternoon relaxing in a swimming pool in a pretty hill village – reached on horseback of course -- while the horses graze nearby. We've even thrown in an hour's lesson in the manege, just to stop you being bored. But there's not much chance of ever being bored on this holiday. As always, guests will be made to feel part of this big hospitable Italian family, and the food and horses will be first class.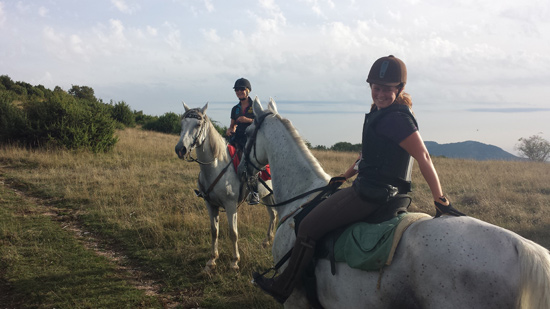 Day 1
Arrive, dinner in clubhouse and overnight.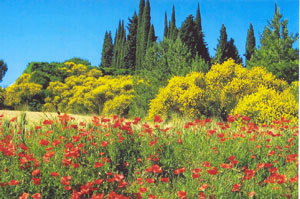 Day 2
Morning
Lesson in manege, flatwork or jumping
Lunch
Afternoon
Today is about getting to know your horse and exploring some of the stunning scenery, though there is scope for some faster riding for those who want to. We set out along shady trails which wind gently past small farms and up into the foothills of Mount Citella, today's destination. There are plenty of chances to canter along these paths, but don't forget to stop and take stock of the magnificent views here. You can see high mountain peaks in the distance, with the stables and Montebibico nestling in the foreground - a great place for a photograph. Afterwards, we head up to the top of Mount Citella itself, just a short climb, where you will be rewarded with more magnificent views here on top of the world. We head back to the stables via another series of trails in time for a shower before dinner.
Dinner and overnight.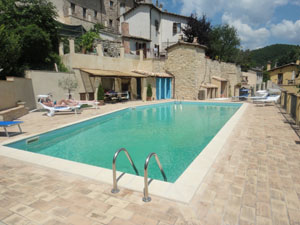 Day 3
This morning, the adventure begins. We start the trek winding through chestnut woods and past a tiny stone church towards the village of Torrecolla. Then it's a climb up along a shady path which opens out onto a grassy meadow, a spiritual place and home to a sanctuary, the pretty Church of San Giovanni Battista, where pilgrims can still sometimes be seen making the trek on foot. Lunch will be a substantial picnic prepared by the cooks back at the stables and served with wine at the outside tables in the shade of some trees. After a good rest for riders and horses, it's time to saddle up again and head up to Mount Fionchi. At just under 1400 m, this is the highest point in the region and a large wooden cross marks the spot. The views are spellbinding. From here, we wind along the grassy terrain, passing a plateau where wild horses and cattle graze together. Then it's on to the tiny mountain village of Patrico, where we will stop for a well-earned beer or ice cream. From here, it's just a short ride to the grassy meadow where we will sleep for the night. The stables' jeep will already have arrived with tents and staff will prepare a memorable dinner, served at table with plenty of good local wine.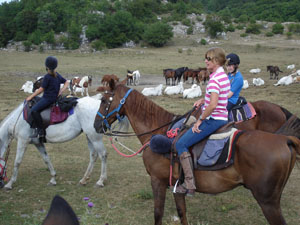 Day 4
After breakfast, we saddle up and ride along the crest of the mountain range where you can admire two valleys, each one dramatically different. This is a view you are unlikely to forget, no matter how many other places you have been to in the world. It simply defies description. After stopping to take photographs, we ride along grassy paths past a convent, where a solitary nun lives year round. Soon afterwards, we pass a mountain spring, renowned for its miraculous water, and you'd be crazy not to get down and have a drink, just in case the legend is really true. We ride on, past a tiny abandoned hamlet towards the village of Ancaiano. Here there is plenty of scope for canters, for those who want to, before the path starts winding down through olive groves to the villages of Casigliano and Strettura. From here, it is a short ride to Casal di Mezzo, a pretty hill village stuck on the side of the mountain and the place we will be stopping for a long break in a private swimming pool with yet more glorious views. Signora Gianna will prepare a delicious lunch which will be served at table just a few steps from the pool, and riders will have the whole afternoon to relax, taking a dip and sunbathing, while the horses have a well deserved rest in a nearby field. Then, in the early evening, we saddle up again for the next adventure.
If you have never been on a Night Ride, you haven't lived! We ride in the cool of the early evening through the village of Montebibico, along shady trails and up into the hills just in time to see the sun setting over the mountain. The jeep will be waiting at a cluster of wooden tables on top of the mountain, and riders will be welcomed by the waft of meat being cooked on a barbeque as they ride along the crest. After a three-course dinner, with wine of course, we ride back to the stables and to our chalets by moonlight.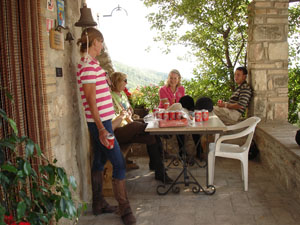 Day 5
You can have a lie-in this morning, after all the adventures of the past few days. But anyone with enough energy may want to take a trip down to the lovely town of Spoleto, a sort of mini Florence (transport can be provided, small supplement). Lunch is served back at the clubhouse and in the afternoon, it's time to get back on our horses for a half-day ride to the grounds of a magnificent 600-hectare private estate called La Tenuta dello Schioppo, but known locally as Il Parco delle Farfalle, the Butterfly Park. There are wide avenues perfect for cantering for those who want to, and trotting for those who don't, and splendid views of mountains, valleys and hill villages in all directions. In a woodland glade a huntsman's table has been fashioned out of local chestnut wood, and this will be the stopping place for an aperitif. In May and June, these woods are carpeted with tiny wild strawberries. We ride back in time for a shower and a farewell dinner in the clubhouse.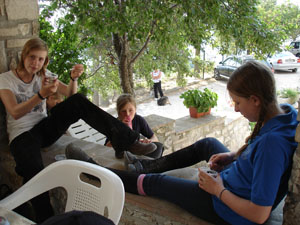 Day 6
Breakfast and depart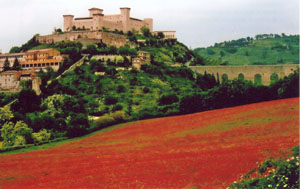 Dates 2018
August 18-23
Other dates on request for groups of 4 or more