RIDING AND WINE TASTING
Spreading out as far as the eye can see around the lovely little hilltown town of Montefalco, known as the Balcony of Umbria for the views it commands, are more than 2,000 acres of vineyards. This very special trail ride offers an opportunity to ride through the rolling hills of an ancient landscape, and to taste some of the wines that are rapidly making a name for themselves in international circles.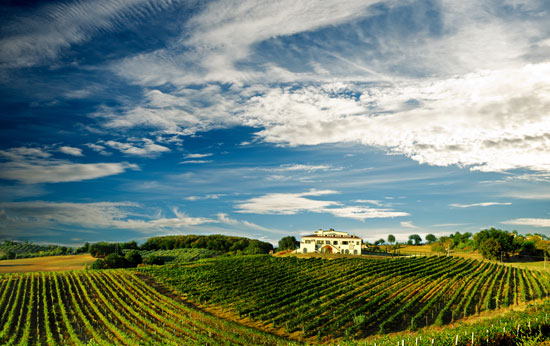 This programme can be enjoyed in two versions: just the trail ride, which is 3 days riding/2 nights away and 2 nights at La Somma (before and after the trail ride). Or as part of a whole week's riding holiday, with the remaining 3 days riding spent at La Somma (trekking and/or lessons as required). The starting point of this trail ride will be the Fonti del Clitunno, a peaceful spot with a lake and small island mentioned by Virgil and Byron among others. This is a short drive away for riders and horses. The itinerary over the next 3 days will take in a stop at two well established wineries, with a short tour to see how the wine is made, and of course an opportunity to taste the result!
The programme is the following, though the order may vary slightly, depending on the weather and other factors.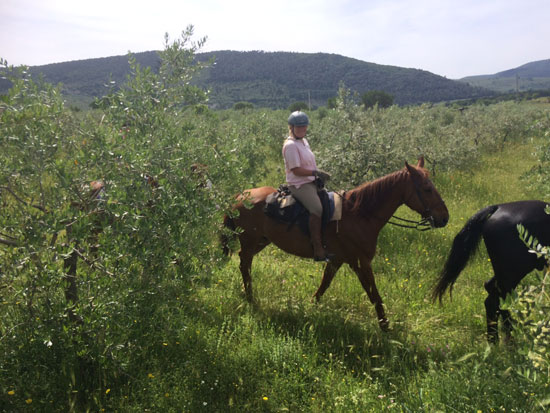 Sunday
After breakfast, the horses are loaded into the horse box and riders are transported by car on the scenic 30-minute trip to Fonti del Clitunno We tack up quickly and begin our ride along wide paths through olive groves and vineyards, with beautiful views whichever way you turn and opportunities for some trots and canters along the way. After a couple of hours in the saddle, it will be time for a welcome break, and we stop at our first winery – cantina in Italian – for a short tour and a tasting, perhaps starting with some bubbly spumante or a glass of locally produced white Grechetto or Trebbiano. Lunch will be served, based on local products, before we head off towards Montefalco, the wine-making centre of Umbria, with its medieval rampart walls and Romanesque churches. Our stopping place for the next 2 nights will be a comfortable agritourism outside Montefalco, where we will settle in the horses and pick up our bags which will have been delivered before. Dinner and overnight.
Monday
After breakfast, we saddle up and head towards Bevagna, which beckons across the hills in the distance. Originally an Etruscan settlement, this small stone-walled town subsequently became a Roman municipium, called Mevania and mentioned by Pliny, before being incorporated into the Duchy of Spoleto, and later, the papal states. Our next stop will be at a cantina that specialises in the rich red wines for which this area has become justly famous – Montefalco Rosso DOC e Montefalco Sagrantino DOCG – and there will be a chance to try them both, as well as to see how they are made and aged in oaken vats. This will also be the stopping place for lunch. From there, in mid-afternoon, we will ride along more gentle trails through vineyards and back to the agritourism, to untack and settle in the horses, before a shower and dinner.
Tuesday
Today we leave the wine-growing area and head towards another of southern Umbria's treasures – the beautiful mountains of Monti Martani, famous for their ancient fossils. Or route will take us through a number of picturesque villages, and there are some trails for trotting and cantering. We'll have a picnic lunch in a shady spot before loading the horses into the horsebox and being driven back to La Somma. Dinner and overnight.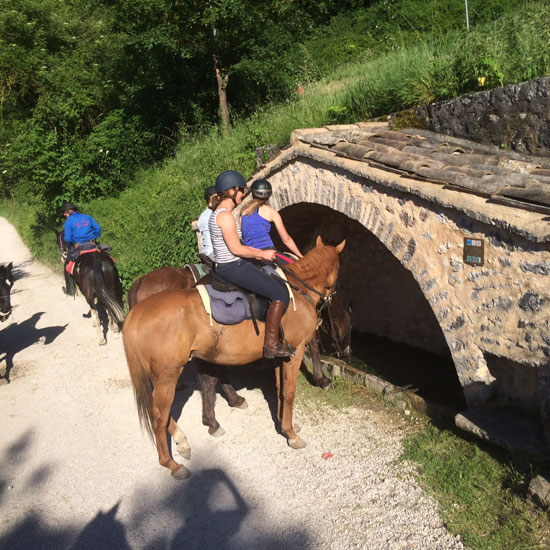 During this trip there will be an opportunity to visit Montefalco, with its many bars and shops, and its extremely pretty central piazza.
Dates 2018
June 2-9